---
News
Event Store with the DDD community : A recap of KanDDDinsky
We were thrilled to be back at KanDDDinsky, Germany's premier Domain-Driven Design conference, as exhibitors last week. It was an incredible opportunity for us to showcase Event Store and connect with the attendees. Let's delve into the exciting highlights of our experience.
The Event Store Booth
Giant maps of Europe, a Raspberry Pi 400 kit, and socks featuring a green dragon called Ouro… These were just some of the things you'd have found if you visited the Event Store Booth.
Not to mention our team, who were all keen to tell you about our operational database, EventStoreDB:
Pascal van Buijtene - Distributed Systems Engineer

Anthony Godsell - Business Development Executive

Daniel Warren - VP of Operations
So, what could you do at our booth?
Explore the world on our expansive map
You may have heard about our impressive giant map, but if you haven't seen it yet, here's a snapshot:

The attendees of KanDDDinsky hailed from various corners of Europe, forming vibrant clusters in Germany, Switzerland, Sweden, Spain, France, Belgium, and the Netherlands. The event truly showcased the diversity of KanDDDinsky, fostering connections with individuals from all around the world.
Talks at the conference
Among the plethora of enlightening talks at the conference, there was one that truly captivated the team. Roman Sachse's closing keynote presentation was nothing short of fascinating. He delved into the arduous journey of rewriting their archaic software system and shared the valuable lessons they learned from their failures.
The winner of the raffle
By scanning a QR code, you could enter into our prize draw to win a Raspberry Pi 400 Kit.
Congratulations to our winner:
Robert Meißner (see his photo below)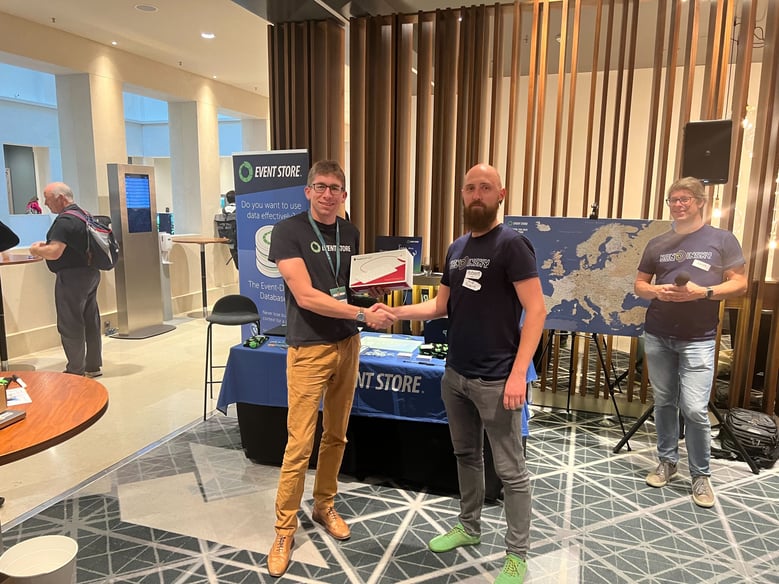 Snag some awesome loot!
Our exclusive Ouro socks, stylish stickers, and trendy pin badges were a huge hit! Delegates and fellow exhibitors couldn't resist grabbing their own, and by the end of the conference, all 120 pairs of socks had vanished like magic.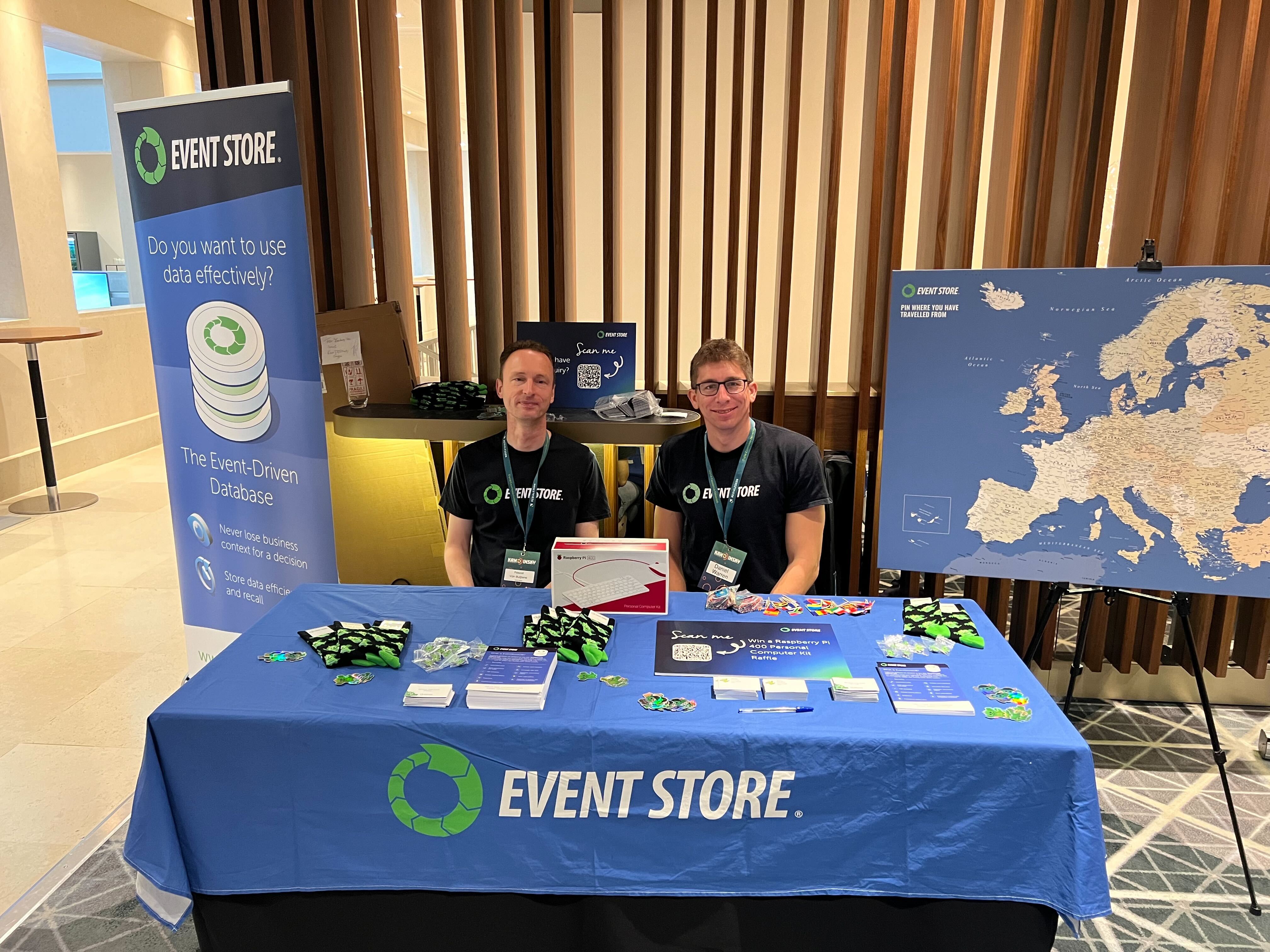 What's next for Event Store and KanDDDinsky?
After an incredible experience engaging with delegates, attending sessions, and connecting with people from around the world at KanDDDinsky, we can't wait to see what's next!
As passionate members of the DDD community, we are thrilled to announce that we will be actively participating in more DDD events and meet-ups throughout the next year. Stay tuned for updates and we hope to meet you there!
Learn more about Event Store & DDD
Webinar | Q&A - Event Sourcing, CQRS, and DDD
If you're looking to learn more about Event Sourcing and related topics like CQRS and DDD, you'll need to watch this webinar on demand.
Event Store experts Alexey and Mat navigate some of your top questions, so you'll be left feeling confident about all things Event Sourcing.
Webinar | CQRS is simpler than you think with C#9 and .NET 5!
CQRS is quite often perceived as an over complex pattern with a lot of redundancy and ceremony. Too often it's explained pushing towards multiple databases, eventual consistency, DDD, and Event Sourcing. In this webinar, Oskar will show that it's the opposite in reality.
Guide | A beginners guide to Event Sourcing
In this guide, we discuss what Event Sourcing is from the first principles. We look at why you'd use the pattern, the range of benefits it provides and we break down the jargon.
×