Event Store Cloud
Spend less time on cluster management and
more time on what really matters: building exceptional software.
Our team of experts will make sure your EventStoreDB clusters are looked after and secure, with support for AWS, Azure and GCP.
Create an account now
Getting started guide
"I'm a 100% happy with Event Store Cloud. Availability has been super high, and many of the more difficult things that we would normally have to do to implement the solution were done for us. I'm happy to say it just works."
Features of Event Store Cloud
AWS

Automated provisioning to AWS (Amazon Web Services).

GCP

Automated provisioning to GCP (Google Cloud Platform).

Microsoft Azure

Automated provisioning to Microsoft Azure.

Fully managed

Easily provision EventStoreDB clusters on demand and connect the clusters to your chosen cloud infrastructure provider.

Access control

Policy based access control system that can be applied to organizations and projects allowing for fine-grained access control to provisioned resources.

Backup and restore

Cluster snapshots may be created on demand or on a schedule to support your data protection policies. These snapshots can then be restored to a new cluster on demand.

Billing

Estimation of cost is provided prior to the creation of new resources. You will be invoiced monthly for the resources used in the previous month, and billing is calculated hourly based on running resources.

Event console

Manage notifications for Event Store Cloud and Managed EventStoreDB events as they occur. Filter and push notifications to third party integrations like OpsGenie, Slack, and PagerDuty.

Automate

First-class development and operational automation with an API, CLI tool, and Terraform and Pulumi providers.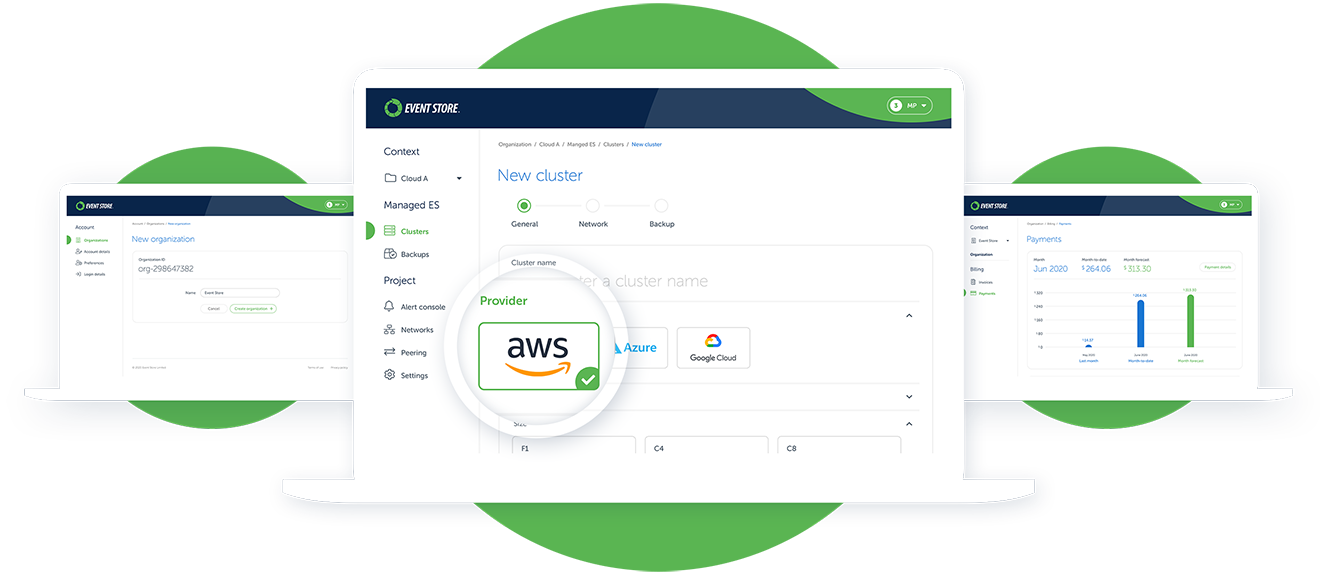 Why use Event Store Cloud?
Building and running highly available and secure applications that incorporate EventStoreDB has never been easier. With Event Store Cloud the operation of your database is handled by our experts, giving your team back hours best spent building your system. You can provision EventStoreDB clusters in AWS, Azure, and GCP, and connect these services securely to your own cloud resources. And it's fully compatible with the existing EventStoreDB database product, enabling you to easily adopt the solution.
Production tested by companies across a range of industries, Event Store Cloud is ideal for customers looking to run EventStoreDB in production and whilst reducing the overhead of managing the underlying infrastructure.
We wanted to use Event Store Cloud right away, we didn't want to deploy it ourselves. It gave us peace of mind if you don't have on-site Site Reliability Engineers or developers, just deploy Event Store Cloud!"