---
News
Meetups, talks & a plushie mascot: our time at QCon San Francisco
Last week, the Event Store team made their way to the golden city for QCon - a conference geared towards senior Software professionals looking for technical content on design, best practices & emerging tech. Here's what we got up to.
Our booth: friendly faces & plushie Ouro
Waiting to meet as many curious attendees as possible were Tash and Meg from our Marketing team, also joined by technical experts Matt, Yves & Dave between sessions.
As always, our booth was popping with Ouro themed swag, including stickers, badges and our famous socks. But what caught the eyes of most was our plushie Ouro; as a limited edition item, this was our runner-up raffle prize claimed by Boon-Hau Teh. We were surprised that many - including Boon-Hau - wanted plushie Ouro over the first place raffle prize, which was a game console Steam Deck worth around $300!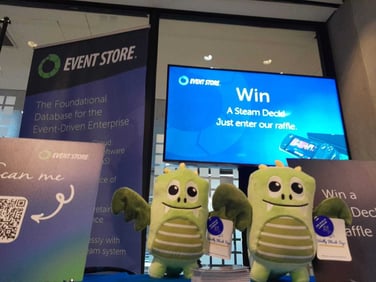 We also had our map, where attendees could pin where they came from. This always goes down well with attendees and sponsors alike, as it's eye opening to see the sheer reach of the QCon conference. Of course, our own team had come from as far as the UK and Belgium, but that's no distance on the the furthest pin from San Francisco which was all the way in Indonesia. There were a couple of surprises in there too - many pointed to the isolated pin all the way in the Faroe Islands, saying "no way has someone come from there…" - but they certainly had!
As well as tangible items, visitors to our booth came away with fresh knowledge of a new category of database designed to complement Event Sourcing. We had some great conversations, ranging from what Event Sourcing actually is to what EventStoreDB is and how it's different from other tech on the market like Kafka.
Streaming events? You should be storing them
On day 2, Event Store experts Matt & Yves presented their talk on why you should not just stream events, but store them at the source of your application. They covered:
The basics of Event Sourcing
A new category of database that's emerged from the Event Sourcing community
Use cases
If you were one of the 46 attendees, we hope you found it informative.
If you didn't catch it, watch the webinar version here.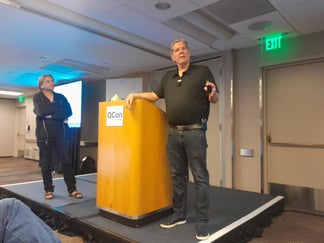 Meetup: food, drinks and of course… more Ouro swag
The second day of QCon was certainly eventful, as after a busy day at the booth and the talk, we hosted a meetup. It was a fantastic chance to catch up with so many familiar faces who had visited our booth in a more casual setting. We all enjoyed food & drinks into the evening, plus there was more Ouro swag to take home.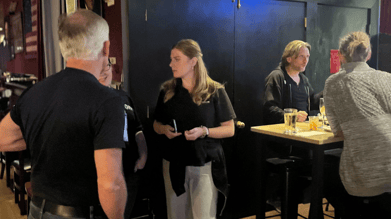 Top 3 Talks & Takeaways according to our Head of Community
QCon wasn't just a great opportunity for us to engage with the community at the booth and during our meetup; our team is full of experts who also benefit from the range of deep technical content available at QCon.
Our Head of Community Alex attended as many talks as she could while at the conference - here were her top 3.
Wes Wagner @ RedPanda - "Introduction to Real-Time Training and Scoring in AI/ML"
This talk started with a great overview of how AI/ML is trained and scored, specifically using streaming data versus batch processing. Gave some strong real world examples to follow on determining how fresh data needs to be, and how fault tolerant a model needs to be. Finished with examples of streaming data to an AI/ML model using flight data to predict future air traffic based on current/historical flights and weather patterns, which was an easy to follow and understand use case and a great example of the tech in action.
Oren Eini @ RavenDB - "Optimizing a Query - An Optimization Tale"
Oren took a deep dive on what's going on under the hood in modern databases and the difficulties of optimizing when the database is specifically trying to obscure or simplify away a lot of the inner workings from the developer. Oren did a great job of demystifying optimization and humanizing it through anecdotes, including a bit about how he asked ChatGPT how to optimize a query generally speaking and got a 20+ item list back that scared him, and he's been doing this forever! The entire presentation he was taking a query through multiple optimization iterations, and asking 'twist' questions that mapped to business logic to make the query more challenging throughout while still keeping to that initial example.
Yingjun Wu @ RisingWave - "Streaming Databases: Embracing the Convergence of Stream Processing and Databases"
Yingjun looked at the timeline and evolution of streaming databases going back 20+ years to the research prototypes, and how the commercial offerings have evolved to specifically meet the needs of interesting modern use cases: ads and recommendations, crypto, etc. Great practical, real world examples.
Where you can find us next…
That's a wrap on QCon for this year… but don't worry, we're planning to sponsor plenty of events throughout next year and of course, host more meetups. If you're interested, sign up to our newsletter below to be the first to hear where these will be.
×