---
News
Meet-up, BlimpBots and Socks : A Recap of DDDEU 2023
Last week, the Event Store team attended DDDEU, one of the largest domain-driven design conferences. As exhibitors, we were excited to talk about all things Event Store and engage with attendees. Here's what we got up to.
The Event Store Booth
Meet-ups, giant maps of Europe, a Nintendo Switch OLED, BlimpBots, and socks featuring a green dragon called Ouro… These are just some of the things you'd have found if you visited the Event Store Booth.
Event Store x DDDEU Meet-Up
On Wednesday 7th June, Event Store held a meet-up at the Aran Irish pub, to give DDDEU a chance to connect and network before the main event.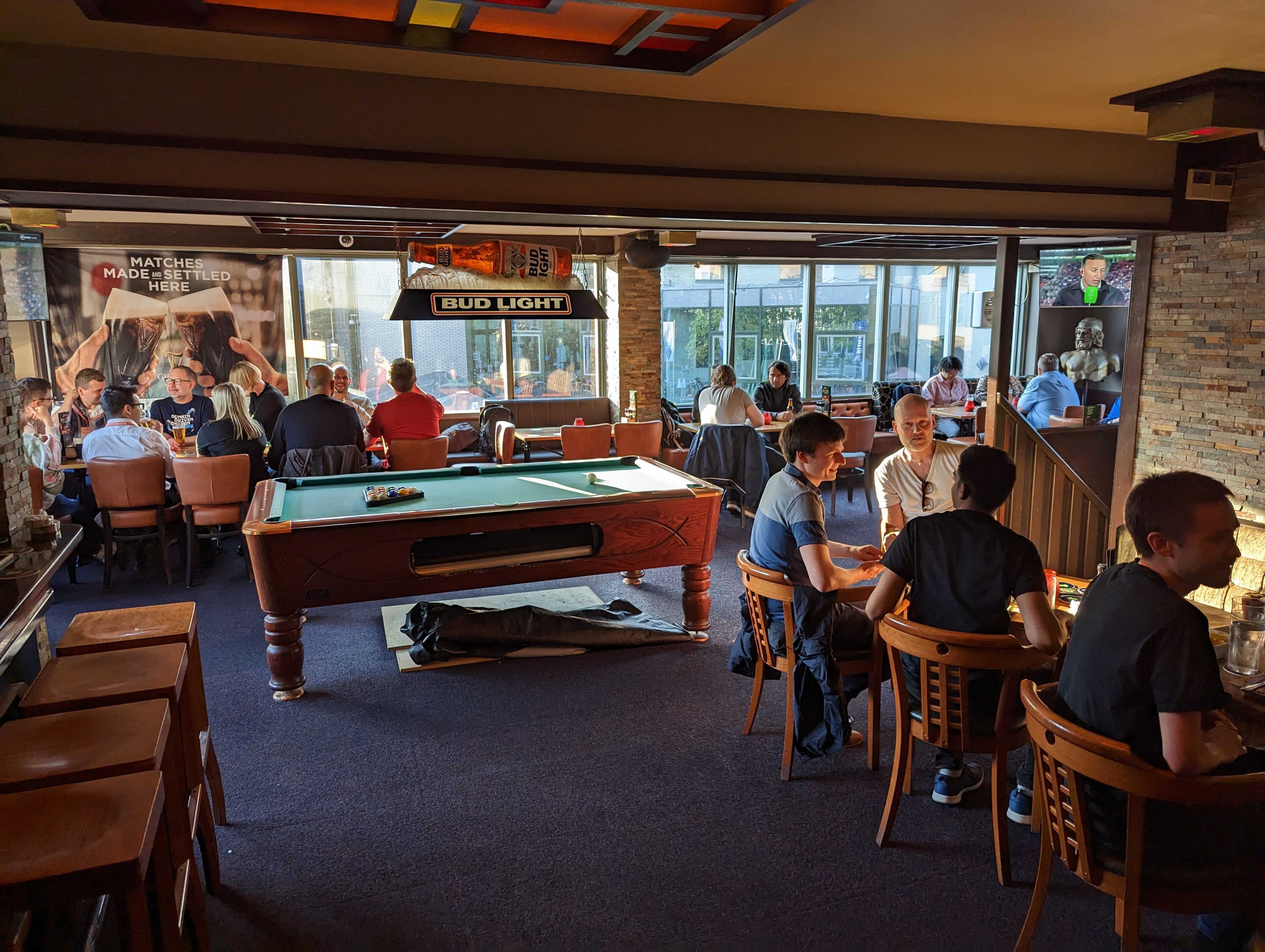 Thank you to everyone that joined us it was a lovely evening and brilliant to meet attendees before the main event!
Pin your location on our map
We've mentioned our giant map already, but just in case you missed just how big it was, here's a photo: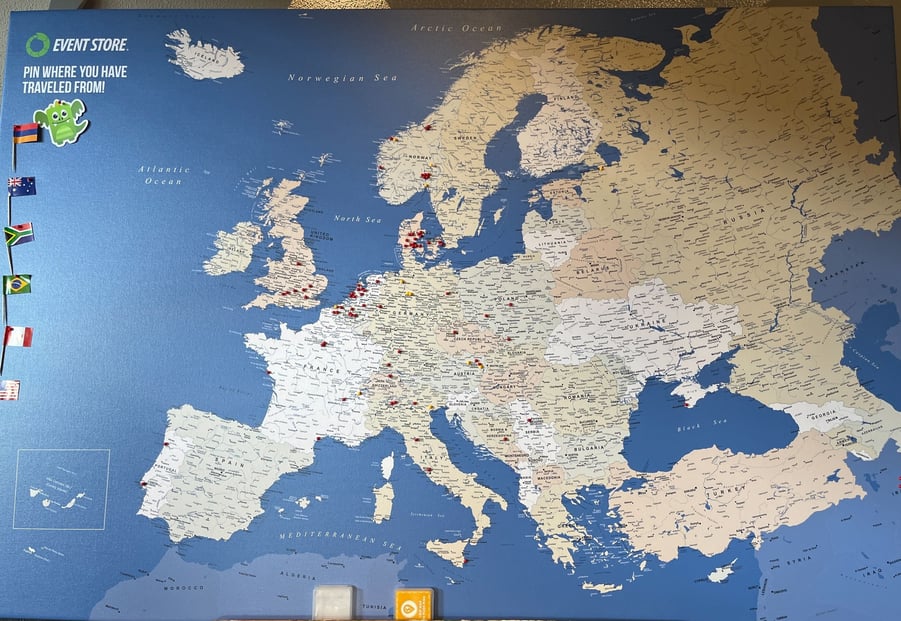 As you can see, DDDEU attendees came from all over Europe, with particularly large clusters around Belgium and the Netherlands. We also had a few attendees from further afield, including Australia, South Africa, Iran, and the USA to name a few.
This was a great way to display the diversity of DDDEU, whilst connecting with those from around the world.
Raffles and BlimpBots
We had two major competitions to enter at DDDEU this year. The first was a raffle to win a Nintendo Switch OLED and the New Legend of Zelda game. The winner was Manoj Yadav - congratulations Manoj we hope you enjoy your prize!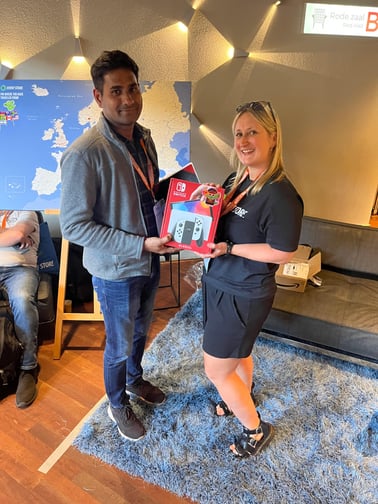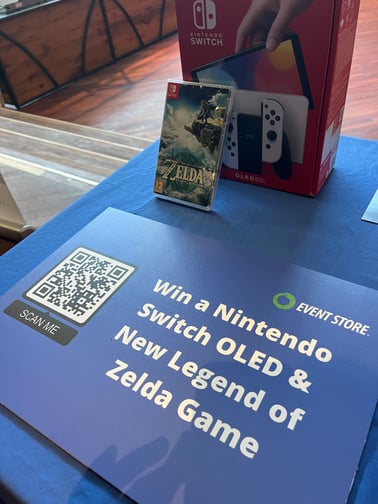 The second was to get your creative juices flowing by designing your very own BlimpBot! We had some wonderful entries, but Tomek won an exclusive Event Store swag box with his Day of the Dead design! Well done Tomek, we hope you enjoy the Event Store goodies!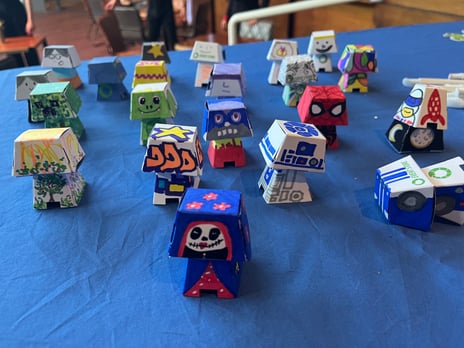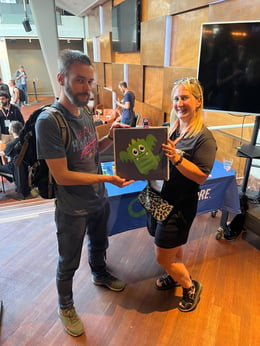 Get some swag!
Ouro socks, stickers, and pin badges were up for grabs. These went down a treat with delegates and other exhibitors, with all 150 pairs of socks disappearing by Friday morning!
Event Store Talks
Two members of the Event Store team had talks at the event.
Refactoring to a really small but useful model island inside a sea of Legacy code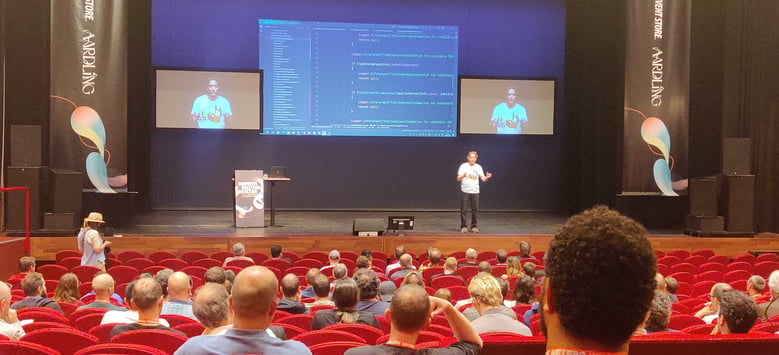 A few years ago the system I was working on involved a set of rules that allows job applicants taking part in selection tests to make use of exemptions or (unfortunately) block them from taking further tests. This part of the system began as a set of queries against the main database, with no explicit domain knowledge in the code. As time passed this code proved difficult to reason about as requirements changed, and new reasons to give exemptions or block applications were introduced. In the end, it was refactored as a combination of strategy & composite pattern. The gain there was of course being able to add/remove new strategies more easily. The main point I got out of that refactoring though was we got explicit domain terminology, clear rules, and an easy way to reason about the specifics of this island of the better model in the code.
Yves Lorphelin - Head of Developer Advocacy
Event Sourcing in a Serverless World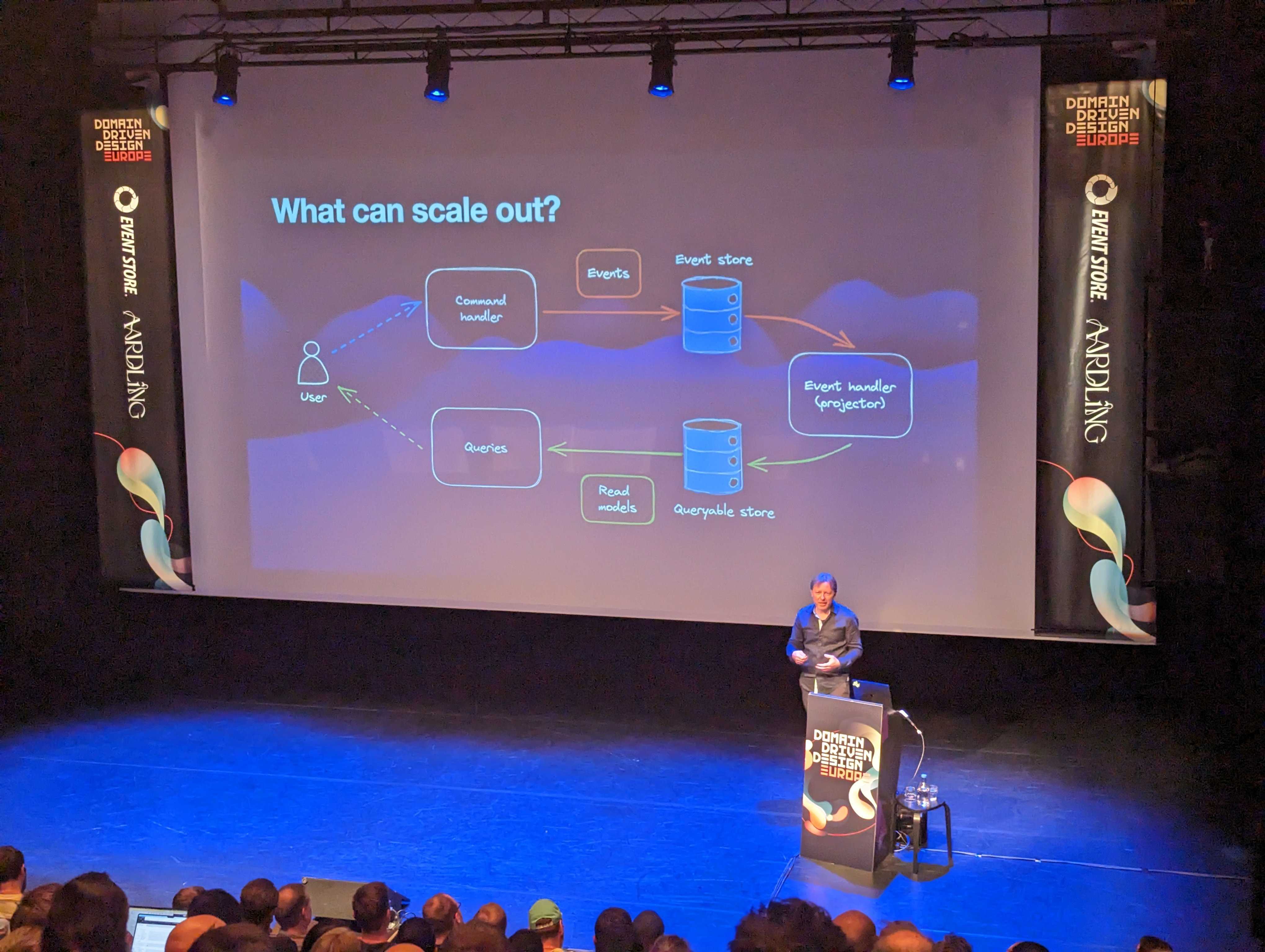 Have you been using event sourcing to build robust and scalable systems, but are now curious about how it fits with Serverless architecture? As someone who's deeply immersed in the world of Event Sourcing, I too was curious about this intersection. I've spent a lot of time exploring how Event Sourcing can be implemented in a Serverless environment, and have discovered some unique challenges and opportunities. In this talk, I'll take you on a journey through my findings, starting with an overview of Serverless architecture and the benefits it brings. But as we dive deeper, we'll explore the thorny issue of implementing real-time subscriptions in a Serverless environment and the various approaches and trade-offs involved. Along the way, I'll share some of my own experiences and provide concrete examples of how to solve some of the toughest problems. Whether you're a seasoned Event Sourcing expert or new to the game, this talk is guaranteed to give you a fresh perspective on how Event Sourcing can be leveraged in a Serverless world. Join me and let's explore this exciting intersection together!
Alexey Zimarev - Head of Product
If you missed these talks never fear they were recorded and should be available soon.
Alexey will be delivering a webinar based on his talk in August; if you want us to let you know the details, sign up to our newsletter by filling out the form at the bottom of this page.
Thank you!
A massive thank you to everyone that came to the meet-up, chatted with us at the booth, and enjoyed the talks by Yves and Alexey.
Another big thank you to Aardling who did a fantastic job of organising yet another smashing event! Until DDDEU 2024!
Learn more about Event Store
If you want to learn more about Event Store, check out some of our resources below.
EventStoreDB Decoded: how to unleash the future of data storage
What is the essence of EventStoreDB? and What makes it so Powerful?
Join Stephen Tung (Developer Advocate), if you're trying to unravel the complexity behind the world of Event Store, or just eager to persuade your boss (or spouse) to support your next EventStoreDB project!
Thursday 22nd June!
Building a scalable and reliable event-driven architecture with EventStoreDB and Kafka
When we talk about implementing an event-sourced system, we hear from the experts in the subject that Event Sourcing, in essence, is an easy concept. You don't need a framework, they say. Or do you?
10 problems Event Sourcing can help solve for you
From auditing to cross-domain communication, read this blog to learn about 10 problems you can solve with Event Sourcing.
Service-Oriented Architecture vs Event-Driven Architecture
To know when to use event-driven architectures, we have to understand what the alternatives are, their benefits and drawbacks, and when they are most appropriate.
×