---
Articles
The Features of Event Store Cloud
Event Store Cloud has entered General Availability (GA), and now is the perfect time to consider migrating to Event Store Cloud. There are a wealth of new features (discussed below) and solid reasons for analysing your infrastructure and planning your migration today.
A hosted solution
Event Store Cloud is a multi-cloud hosted solution, and provides a range of benefits:
Scalable resources instantly allocate more resources where needed with minimal fuss.
Improved backup and disaster recovery a hosted solution is safe from physical damages and accessible anywhere, making disaster recover or pandemic planning much easier.
Always-available connectivity the data can be accessed from anywhere, at any time.
Migration made easy there's a Replicator tool to help manage the migration to Event Store Cloud.
No need for physical storage space save space in your rack and reduce server load.


Production ready
With a hosted Event Store, you can be assured that the version of EventStoreDB will be secure, stable and robust, and has the feature set to match. These features are all important, useful features that have been planned for some time, and the Engineering team are delighted to have them integrated into Event Store Cloud. As this represents a leap forward in the usability of the product, it's a good idea to talk further about the new features, how they work and how they can help Event Store Cloud users.
Connect however you like
There are many ways to connect to Event Store Cloud, making it easy to integrate Event Store Cloud into your existing infrastructure. The easiest way is to use the Console UI. The API has also been made available for Event Store Cloud, allowing for secure integration. There is also a Terraform provider and a CLI, providing useful, flexible ways of connecting to Event Store Cloud. There's more information on connecting to Event Store Cloud here.
Schedule backups
Event Store Cloud now has scheduled backups as a feature of GA. Backups can be created as frequently as once an hour, and you can have several backups running and different frequencies to respond to different business needs. As new ones are created, the older ones are automatically deleted.
You can create them using the Event Store Cloud Console or using CLI.
In the Event Store Cloud Console, you can go to the 'clusters' view and click on the 'create backup' icon, then 'create backup schedule'.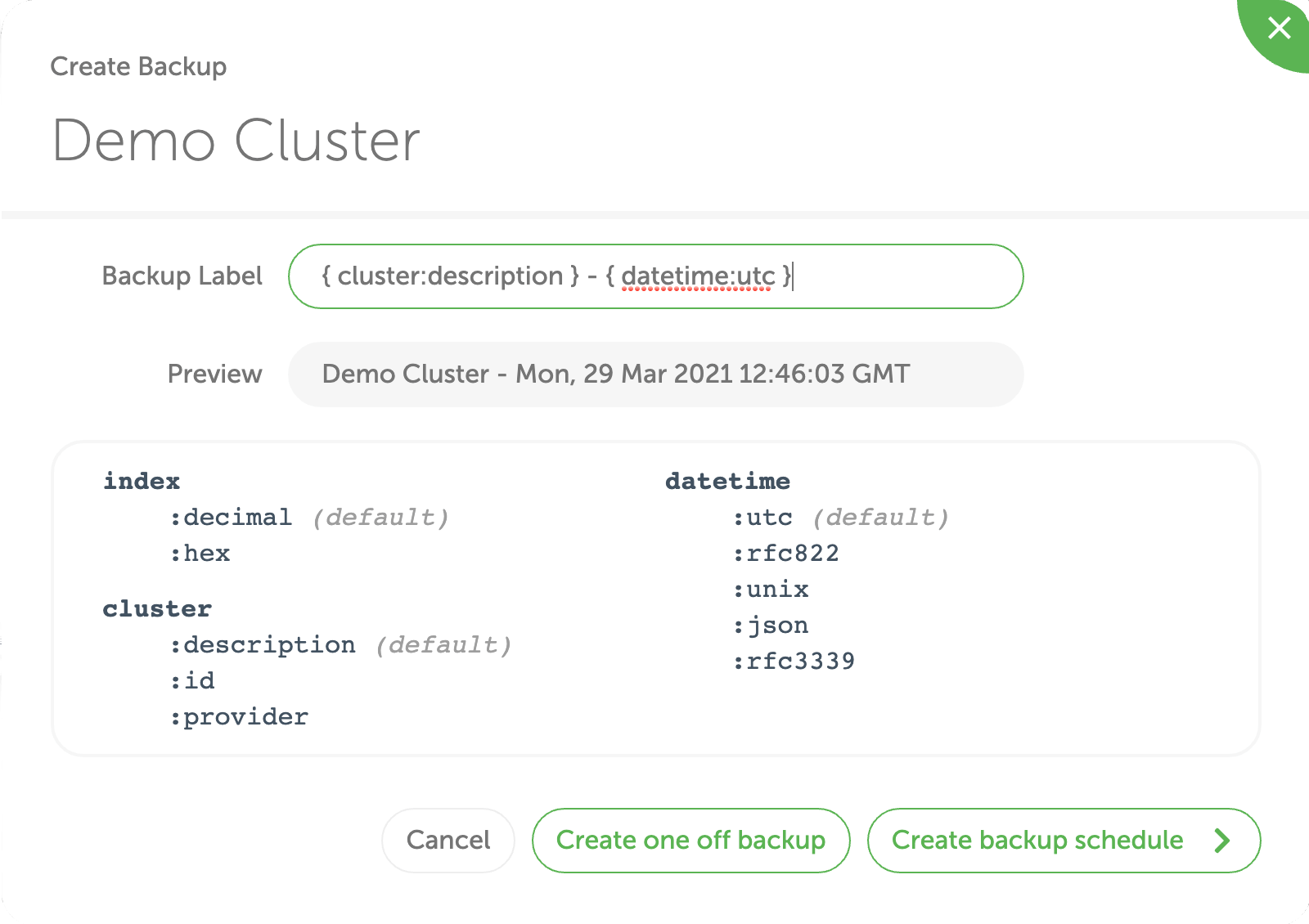 Enter a description of the backup, the frequency and the number of backups allowed before automatic deletion. Then click on the 'create backup schedule' button.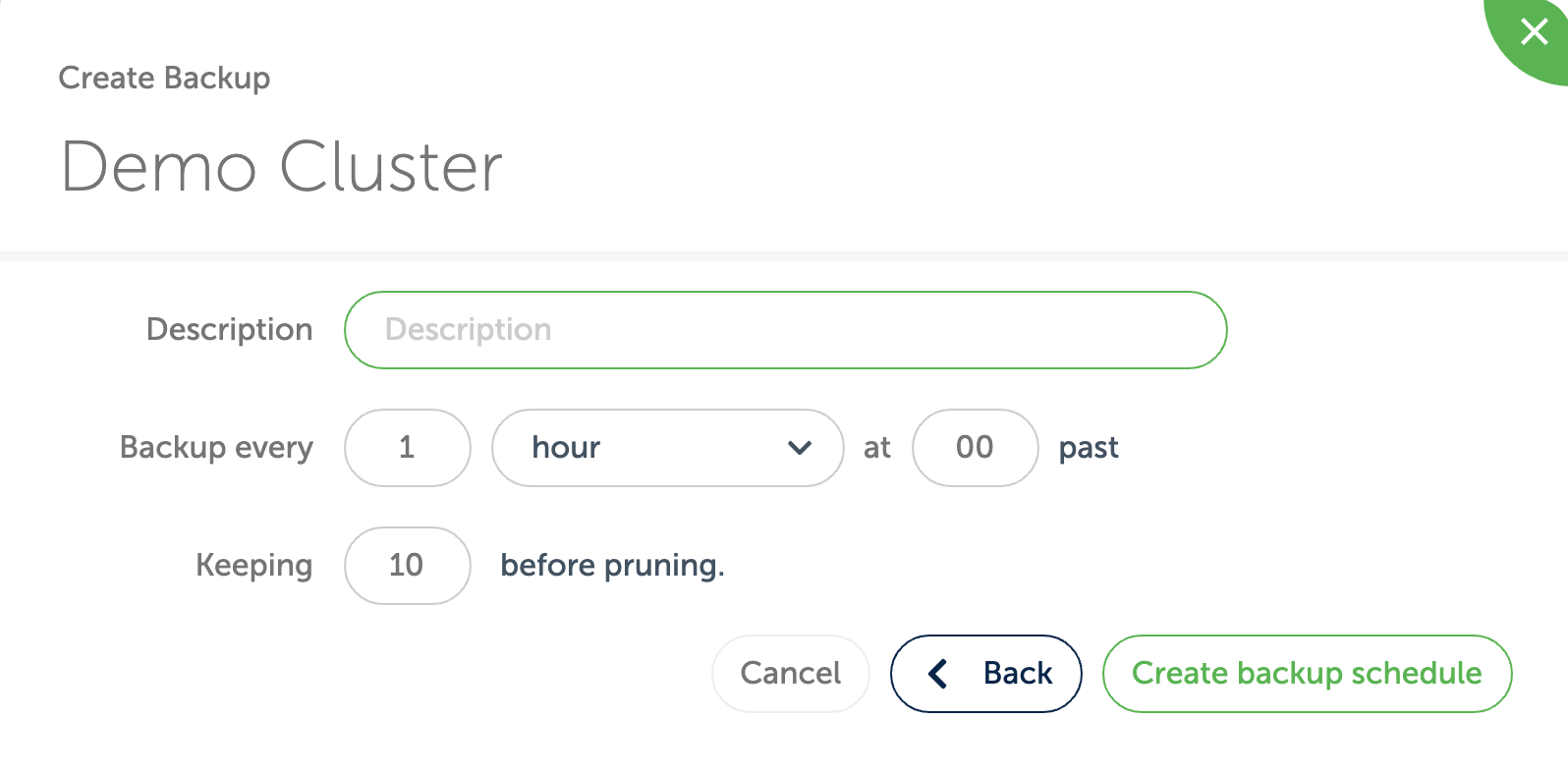 It's that easy to set up scheduled backups. More information is available in the documentation here.
Monitor your resources
Event Store Cloud can connect to both Prometheus and Grafana to help you monitor the events in your clusters. These monitoring tools connect to Kubernetes and allow you to scrape and store time series data and analyse them accordingly. Here's a guide on how to set this up.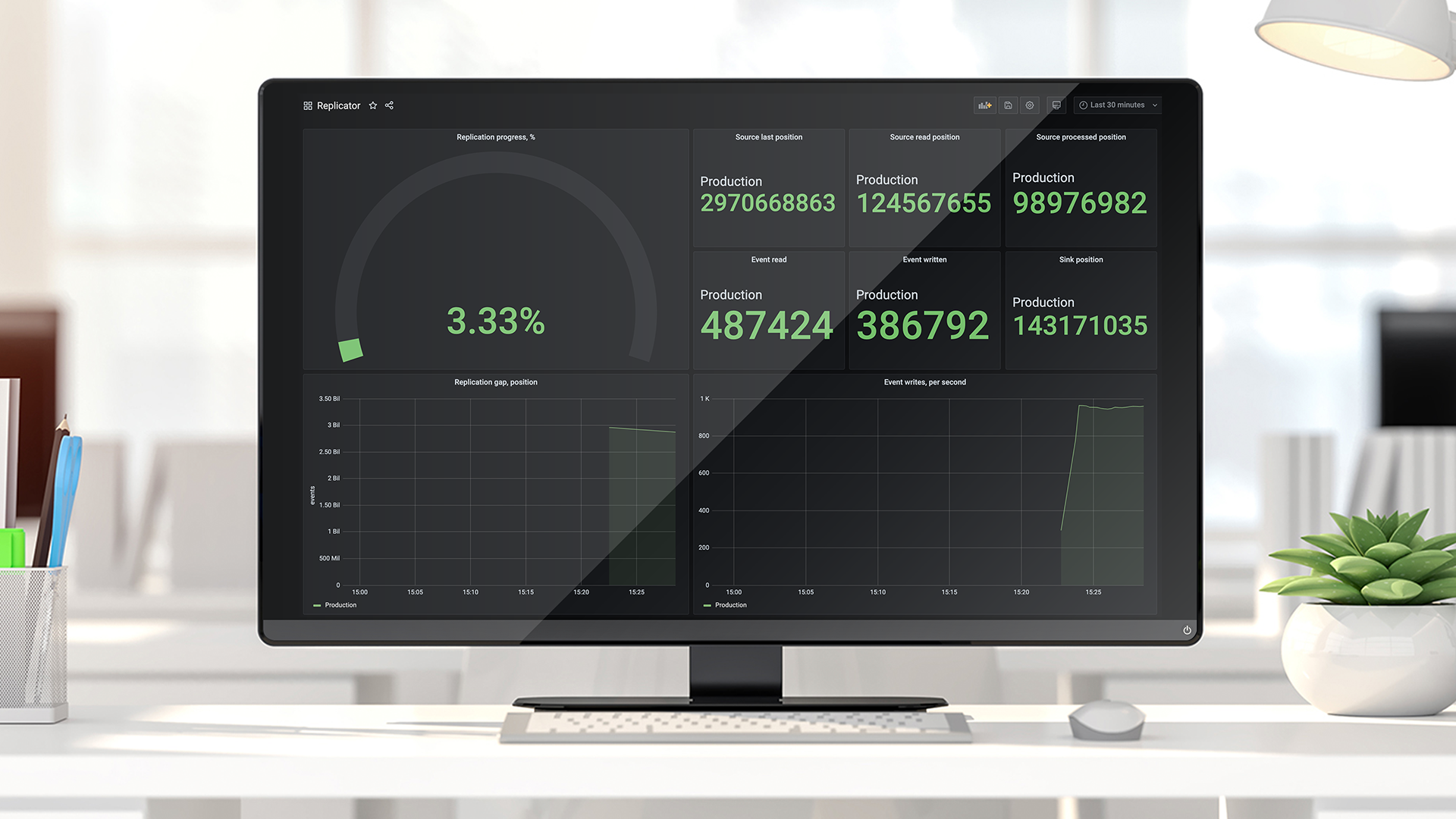 Migrate from Self Managed to Event Store Cloud
With Event Store Cloud entering GA, users of EventStoreDB can now choose to host it themselves or migrate to the cloud. Hosting on the cloud has many benefits, but it's not a "one size fits all" procedure: there are many different aspects to consider, including data throughput, the size of the database being migrated, any uptime requirements, and many more.
The Developer Advocacy team has been helping customers migrate their databases to Event Store Cloud to utilize the benefits of cloud and get their projects running in Production. They take pride in helping clients migrate smoothly, and many clients have already successfully migrated, and are now running Production-ready systems in our multi-cloud EventstoreDB platform.
To help customers migrate, the team has made the Replicator tool open source. It's supported by the team, so if you require any assistance with it, please contact the team here.
Migrating a database to the cloud can be a daunting process, and the team is here to help you. Book a meeting with them now using this link here.
×